Nicaragua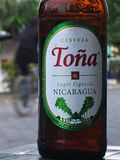 Stopping in La Cruz just before the Nicaraguan border, who should we bump in to but none other than Bob, THE official Smellybiker http://www.smellybiker.com/ and Angie his girlfriend who´s not smelly. After a few beers (where after about 15 attempts, I finally managed to do the ´open the bottle with the bic lighter trick) we agreed to cross the border together the following day. The crossing actually turned out to be relativelly painless apart from a dying printer which delayed the proceedings somewhat and the bizzare $1 ´taxes´once we´d crossed, we were in Nicaragua.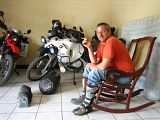 Bob, `avin a fag

We stopped off in San Juan del Sur for a couple of days. Its a bit of a surfers town by the sea (well, obviously!) and we booked up for a days surfing at the beach about 10kms away. The following morning, we set off in the battered transit van with the other ´dudes´. I'd like to say that after my surfing lesson in Peru, it was a breeze. But it wasn´t. I got fed up not being able to get up on the board inthe morning so I gave up around lunch time but by the afternoon after a bit of a break, I somehow managed to get on the board a few times. Ok, there were no style points but I was quite pleased with myself. Next surf stop- Mexico!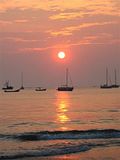 Just another San Juan sunset
Hmm, this is quite easy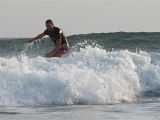 erm...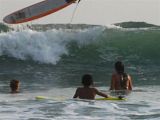 ooops!
Me, later in the day (honestly)
We bid his royal Smellyness and Angie fairwell the next day and thought we´d pop over to Isle Ometepe in Lake Nicaragua as it was supposed to be good and the biggest volcanic island in freshwater or some such thing. Anyway, en route, yours truly got pulled over by a fat cop for (wait for it...) crossing the white line in the middle of the road. He was dealing with some minor bump/accident thing by the side of the road as I approached and overtook the slow van in front of me.

Because he was pulling vehicles over left, right and centre, I just assumed it was one of those annoying checks where they look at your documents, grumble a bit and then wave you on dismissively. He first asked for my documents and feeling cheeky, tried to casualy hand him the 150-odd bits of paper I´d just accumulated at the border, but when he saw that, he screamed ´licencio licencio!' or something. Oh whatever, so I handed Mr Grumpy my International Driving Licence as it was on the top of the pile so he took this and scribbled out a little yellow ticket which he gave to me.

´Er, what the f%ck is this?´I asked to which he mimed his way through my offence, crossing the central line and shaking his head somberly and wagging his fat finger. Thinking, 'bollocks, I should have given him one of my fake licences´I attempt to give him one but he walks away holding up my licence shouting ´esta esta!' Arse, thinks I so I follow him as even if I did want to pay the 300 Cordonas fine (which surprisingly I didn´t) I had no idea where to pay or how to get my licence back. I got off the bike and shouted at him and started walking towards him but he back off quickly and jumped into his police car and sped off. Well I never! Not to worry, I´ve never actually used the International Driving Licence for anything and have a scanned copy anyway.

After quite an expensive ferry crossing, we rode round the north side of the island which was all dirt. (It was only later on that we found out there was a paved road round the south of the island!). It was pleasant enough but after looking at the black volcanic ash beaches, the towels stayed firmly in the panniers and we headed back to the mainland for Granada for a night. Granada is quite a nice colonial place but still feeling like I need to make up for lost time in Colombia, it was off the a small town just before the Honduras border the following day.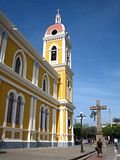 Granada