Wednesday 1st November
After sorting out a bit more of our kit in the morning, Iain & I went into town on our bikes while Javier was working on Michelle's bike. Using the GPS, we managed to find the street of bike shops recomended by Javier as Iain was looking for some warmer gloves. We were also looking for some sticky-backed velcro to stop the pannier padlocks banging about.
I got landed with the task of tackling the haberdashery while Iain went in search of some 'steptoe' style long-johns. I'm not too sure what the ladies in the shop thought of me standing in line in my bike gear, but after performing some convincing charades and narrowly avoiding to buy 10m of the stuff, I managed to complete the task. We then went to a little cafe nearby and got a cracking chicken lunch for 20pesos (about 4 GBP).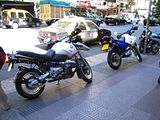 So it was time to head back through the mid afternoon BA traffic which looks like total chaos but somehow it seems to work. Thank God for the GPS as there's absolutely no way I'd have got us back to Daker. When we got back to, Javier had pretty much finished with Michelle´s bike and she was well pleased with the result.